TRANSIT VISA TYPE "TS"
Eligible Applicants for Transit Visa Category
Transiting through Thailand's airports exceeding 12 hours before proceeding to the third country of destination or returning to your home country (Requiring a copy of the outbound ticket to a third country)

Participating in sports activities (Requiring a letter of invitation from the concerned organization in Thailand)

Captain or crew of a conveyance coming to the port, station, or area in Thailand (Requiring a letter of verification from the concerned airline)
Transit Visa Conditions
Pronouncement:
The Royal Thai Consulate-General in Sydney reserve the right to request additional documents as deemed necessary as well as reject any application without prejudice.

The applicants must provide genuine documents and information. If the applicants are found to provide false documents or give false information, their applications will be rejected and be reported for further determination of appropriate action and future prohibition to enter the Kingdom of Thailand.

Visa processing time may vary depending on the demand and/or information to be reviewed which may take up to 15 working days.
Transit Visa Application Procedures
Each applicant must submit a complete online form together with the required documents* to the Royal Thai Consulate-General in Sydney or submit the application to the Royal Thai Embassy in Canberra, please contact visa.can@mfa.mail.go.th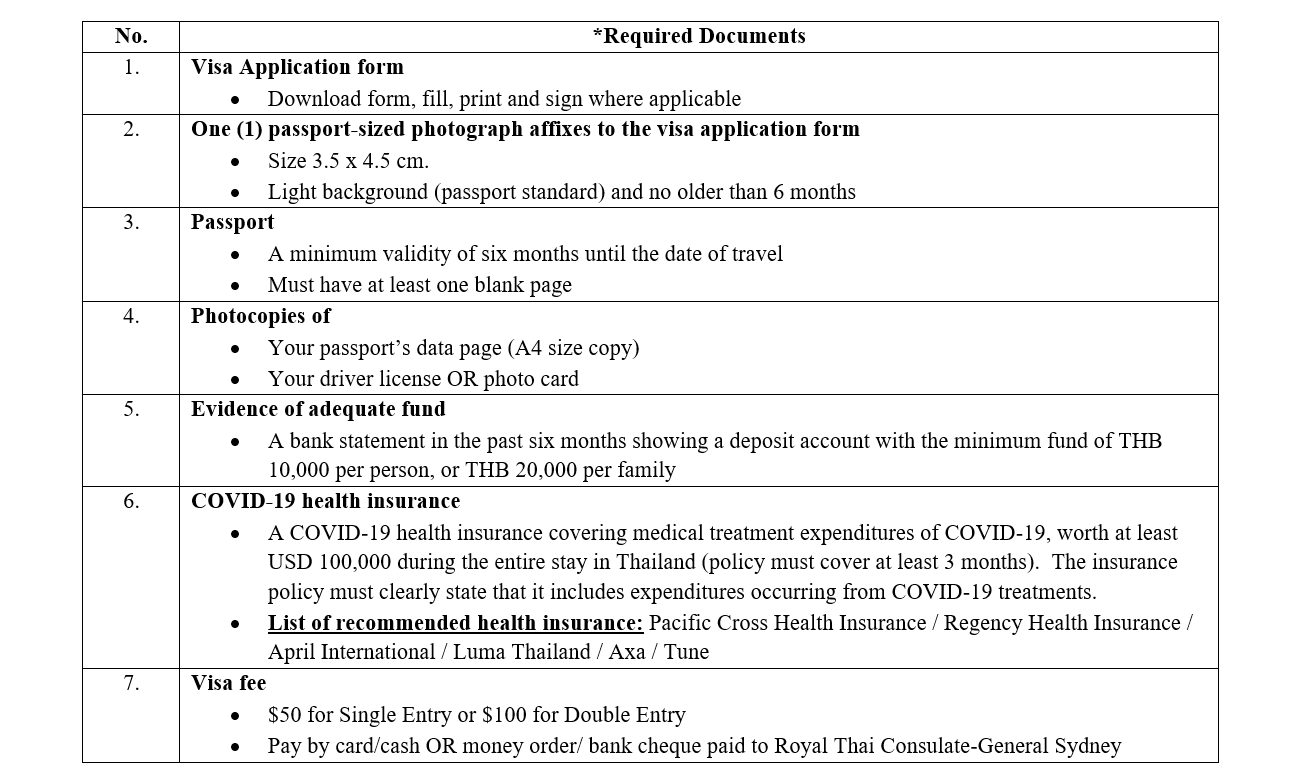 Flights to Thailand
Option 1 Semi-commercial flights to Thailand
Certain airlines are now permitted to operate semi-commercial flights to Thailand, namely, Emirates, Etihad, EVA, Qatar Airways, Singapore Airline, Cathay Pacific, Lufthansa, Austrian Airlines, Swiss Air, KLM, Air France and etc.
Option 2 Special chartered flights organized by the Royal Thai Embassy in Canberra and the Royal Thai Consulate-General in Sydney
Due to the limit of a quota of allowable passengers to enter Thailand by specially chartered flights, please contact the Royal Thai Embassy in Canberra for information on the availability of seats. (visa.can@mfa.mail.go.th)
Application for the Certificate of Entry (COE)
Upon approving Transit visa, the applicants will have to apply for the COE via https://coethailand.mfa.go.th/
Please note the followings:
Upon entry into Thailand, all applicants are required to undergo 14-day Alternative State Quarantine (ASQ). For more information, please visit http://hsscovid.com/. Evidence of reservation for ASQ for a minimum period of 14 days from the date of the arrival in Thailand will be required for COE application.
All the applicants are required to obtain COVID-19 health insurance covering medical treatment expenditures of COVID-19, worth at least USD 100,000 during the entire stay in Thailand as part of the application to obtain COE. The insurance policy must clearly state that it includes expenditures occurring from COVID-19 treatments. List of recommended health insurance: Pacific Cross Health Insurance / Regency Health Insurance / April International / Luma Thailand / Axa / Tune
At the Departure Airport and upon Entry into Thailand
All applicants with approved Transit visas will be required to present the following documents to the airline check-in staff at the departure airport and concerned authorities upon arrival in Thailand:
**************************
Disclaimer
The Royal Thai Consulate-General Sydney officers reserve the right to request additional documents as deemed necessary as well as reject any application without prejudice. Please note, the visa processing fees is non-refundable once the processing of the application begins – regardless of its outcome.

All visa fees can be paid by the exact amount of cash, money order, or bank cheque address to Royal Thai Consulate-General Sydney (personal/company cheque are not acceptable)


Click to download the application form HERE
Click to download the Visa checklist HERE