COE APPLICATION & FLIGHT TO THAILAND
1. Application for a Certificate of Entry (COE)
- Once granted a Visa or if travellers already hold a valid Thai visa or qualify for Tourist Visa Exemption Scheme travellers must apply for a COE via https://coethailand.mfa.go.th/
- Upon entry into Thailand, all travellers departing from Australia are required to undergo a 14-day Alternative State Quarantine (ASQ) or Alternative Local Quarantine (ALQ) (more information can be found on http://hsscovid.com/). The COE application requires a proof of reservation for an ASQ/ALQ for a minimum period of 14 days.
2. Permission to travel from Australia issued by the Australian Border Force
For Australian citizen or Permanent Resident, travellers are requested to obtain a permission to leave the country from Australian Border Force. All travel exemption should be submitted at least 2 weeks, but not more than 2 months, prior to travel. For the most up-to-date information please visit https://travel-exemptions.homeaffairs.gov.au/tep
3. Flights from Australia and Entry into Thailand
- Option 1: Semi-commercial flights
Certain airlines are now permitted to operate semi-commercial flights to Thailand, including the following carriers: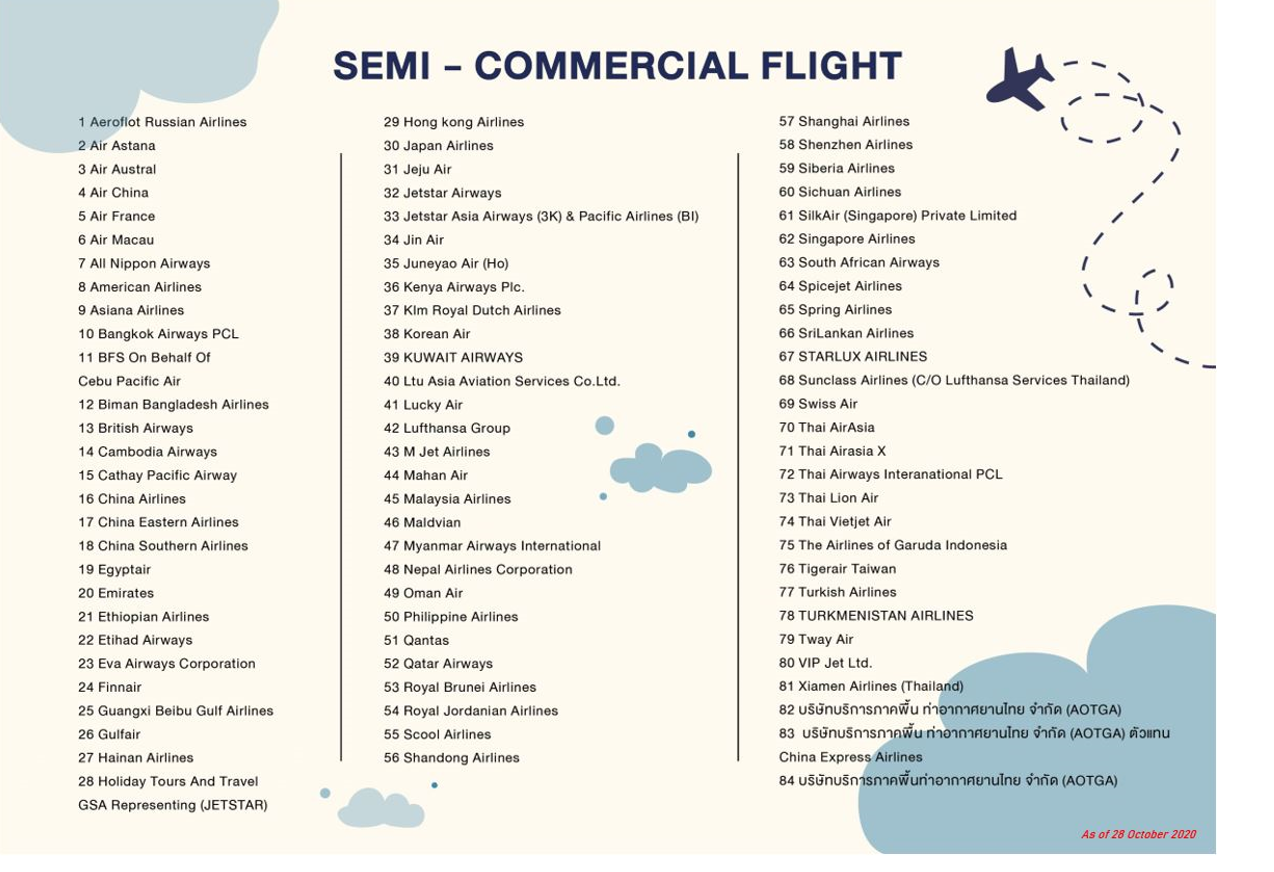 - Option 2: Specially chartered flights organised by the Royal Thai Embassy, Canberra, and the Royal Thai Consulate-General, Sydney
Due to the passenger quota allowed to enter Thailand by special chartered flights, travelers are requested to contact Thai Airways directly for information on the availability of seats at ticketing@thaiairways.com.au or call 02 9844 0900.

At check-in and upon arrival in Thailand, all travelers are required to present the following documents:
| | |
| --- | --- |
| No. | Required documents |
| 3.1 | A Certificate of Entry (COE) |
| 3.2 | A COVID-free medical certificate with RT-PCR laboratory result issued no more than 72 hours before departure |
| 3.3 | A valid visa/re-entry permit |
| 3.4 | Vaccine certificate (if applicable) |
**************************
STEP REQUIRED ENTER THAILAND
STEP 1 – STUDY THE CATEGORY OF ELIGIBLE PERSON TO ENTER THAILAND:
The applicants must check visa conditions and eligibilities on our website at https://sydney.thaiembassy.org/en/index
The applicants may opt to enter Thailand without a visa under the Visa Exemption program and are able to secure a COE or certificate of entry. Nationalities under the Visa Exemption Program are allowed to enter Thailand without a visa by the Thai Embassy or Consulate. The applicants may directly apply for the COE or Certificate of Entry.
For those who are entering Thailand on a different purpose of stay, they need to obtain a Thai visa and COE prior to coming to Thailand.
STEP 2 – APPLY VISA ONLINE*:
The applicants can submit a complete online form together with the required documents via
https://sydney.thaiembassy.org/th/publicservice/visa-application-online
After applicants submitted their visa, please check email regularly (including junk mail folder). An email invitation to affix for a visa will be sent to their email address used for their Registration of Visa Application (the processing of affix a visa is 3 business days).
*Please make sure that the application has been submitted 3 to 4 weeks before travelling and a separate application is needed for each person (regardless of age)
STEP 3 – APPLY FOR A COE ONLINE:
The applicants are requested to submit for a Certificate of Entry (COE) at https://coethailand.mfa.go.th/ (The applicants are requested to submit COE at least 7- 15 business days before their flight). For more information on how to register please click on the following links for a quick YouTube video or read for more information at the following links:
(1) YouTube Video Registration Demonstration (English) https://youtu.be/1c1dNaXv0mM
(2) Registration Guideline in English (file link)
***************************************************************
Flights to Thailand
Regarding flights to Thailand, please be advised that normal commercial passenger flights into Thailand have been suspended until further notice. Nevertheless, the Thai Government organizes semi-commercial flights that are permitted to enter Thailand.
At present, certain air operators are permitted to operate semi-commercial flights to Thailand, and the list of air operators participating in the semi-commercial flights program can be found here (https://bit.ly/2Ude2kx)
For the availability and flights information, please contact the airlines directly. Before booking flights to Thailand with the above-mentioned air operators, travelers should ensure that they study the different categories of visas granted to foreign nationals at this time to determine the possibility of travel. Please note that having plane tickets does not guarantee entry to Thailand, non-Thai travelers must have all the required documents to enter Thailand.
Certified Quarantine Facilities
Travellers may book ASQ/ALQ
- directly with the hotel
- via www.agoda.com/quarantineth
- via https://asq.locanation.com/
- via https://asq.ascendtravel.com
- via https://asqthailand.com/ OR
- via https://entrythailand.go.th
Reservation must be made for "ASQ/ALQ package / 14 days" at the travellers' own expenses.
For AHQ, OQ and GQ, travellers must contact the hospitals/institutions/golf resorts directly.
Thailand Plus Application
From 14 January 2021, all travelers who have received COEs are required to download and register via the ThailandPlus Application. They are required to show a QR code generated from the registration via the Application to be scanned by the Thai authority upon arrival in Thailand. To download, click https://thailandplus.in.th/en/
T8 form
Upon entry to Thailand, Travelers arriving in Thailand during the COVID-19 pandemic must submit a T.8 form (health declaration form). Register online through AOT phone application at https://aot-app.kdlab.ai/

Update: 19 May 2021